Summer is in full swing here in Suffolk and Nassau Counties – has the "Changing of the Thermostat " happened when it comes to your heating and cooling systems? Summer is the time to put away the furnace and fire up the air conditioner as the outside temperatures and humidity start to rise.
If you have been relying on an old or broken air conditioner, or your cooling costs have been too hot to handle the last few summers, you certainly aren't alone. Many homeowners throughout Long Island have come to Home Efficiency Experts wondering how much they would actually save when upgrading their air conditioners, or looking for maintenance tips for their HVAC system that might reduce energy costs. We'll take a closer look at AC efficiency to illustrate how much you might be able to save by upgrading to ENERGY STAR® rated cooling systems.
Improvements in Air Conditioner Efficiency
While the technology around how an air conditioner creates cold air has mainly remained the same for decades, modern manufacturing and engineering have made the cooling equipment of today much more efficient. The most common measurement for comparing air conditioners is SEER (seasonal energy efficiency ratio) ratings. As you can see below, the minimum standard for cooling efficiency has been on the rise for decades, too!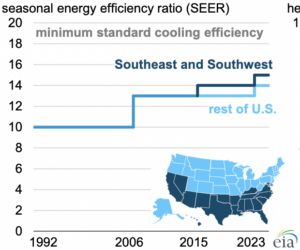 This rise in efficiency standards can make air conditioners that barely meet the minimum SEER rating outdated in less than ten years!
ENERGY STAR Rated Air Conditioners & Heat Pumps
While there are multiple factors that contribute to how energy efficient your individual home is, choosing ENERGY STAR® rated cooling equipment will provide an 8% reduction in energy use over conventional new models.
Upgrading to an ENERGY STAR® rated heat pump brings efficiency in both heating and cooling modes, while also consolidating your heating and air conditioning service or maintenance to a single system.
Other Ways to Reduce Cooling Costs
Replacing or updating your air conditioner will reduce the amount of energy required to make the cold, dry air you need to stay comfortable at home. However, your new equipment will need to be properly sized and installed if you are to see the maximum benefit! Plus, there may be other areas of your home that could use an upgrade to further increase your summer energy savings, such as:
Insulation
Insulation in your attic, crawlspace, and walls prevents outside heat from infiltrating your home and negating the cool air coming from your AC.
Duct sealing
Your cooling system will only be as efficient as the ductwork used to deliver the cool air – and ductwork is very leak-prone. Sealing up your central ductwork will ensure you aren't losing any energy (or money) out of your ducts!
Air Sealing
Your home is also prone to leaks and gaps in its construction, which will allow air to freely enter and exit your living space. Keep your air conditioning where you need it, by sealing up air leaks with professional air sealing.
Efficient AC Installation and Maintenance
Our name says it all – we aren't just cooling efficiency experts, we are Home Efficiency Experts! There are many factors to keeping a home that feels comfortable, stays healthy, and is affordable to maintain, and our team is well equipped to get your home on-track. Whether you are looking to get a new AC unit, or are interested in heat pumps or mini-splits, you can trust your home cooling with Home Efficiency Experts.
Ready to upgrade your energy savings and your summer comfort? Find the right new AC or heat pump with Home Efficiency Experts – contact us here or call 631-406-9805.