Foam Board Insulation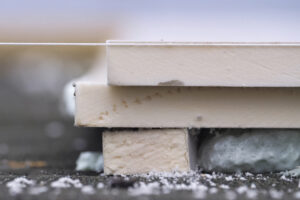 There are many types of insulation and all of them are very important in making your home more comfortable, healthy and saving money on costly energy bills. Foam Board insulation is used for insulating attic pull-down staircases, storage sheets in the attic and Knee Wall hatches. Many air handlers are in the attic and by building a path with storage sheets insulated with foam board, the units are accessible by your HVAC (Heating, Ventilation, Air Condition) service company. By not insulating these areas properly, heat will escape during the winter months and heat will infiltrate your home when running your air conditioning system in the summer. This will make your mechanical equipment work harder and increase your energy consumption which will increase your cost on utilities. It will increase the wear and tear on your heating and air conditioning systems which can be costly.
Add Comfort with Foam Board Insulation
Pull-down staircase uses 2-inch-high density ridged foam board with an airtight gasket. Attics hatches and knee wall hatches use 4-inch-high density ridged foam board. This insulation will add comfort and value to your home and also save you money on your utility bills.
Have questions? Ask your home efficiency expert during your schedule audit to provide you more information about foam board insulation and its benefits in reducing energy bills. Let Home Efficiency Experts turn your home into a certified BPI green home!